It's 59 today here in NJ today. The blue skies and warmer weather are a big relief after a long, cold, messy winter. If you've been feeling cooped up and your dog's manners could use some refining after an extended bout of cabin fever, consider signing up for our Click Bulls! course. This 6-week breed-specific course covers all the basics of humane, science-based clicker training, management and preps your dog for the next-level CGC course. If you are looking to lay the foundation as you work your dog u p to breed ambassador-status, this class is for you. Spots are limited to 5, and the cost for the cost is $50, paid in full no later than 3/3. Classes are held in Unami Park in Cranford. If you'd like a sign up form or more information, please email: training@realpitbull.com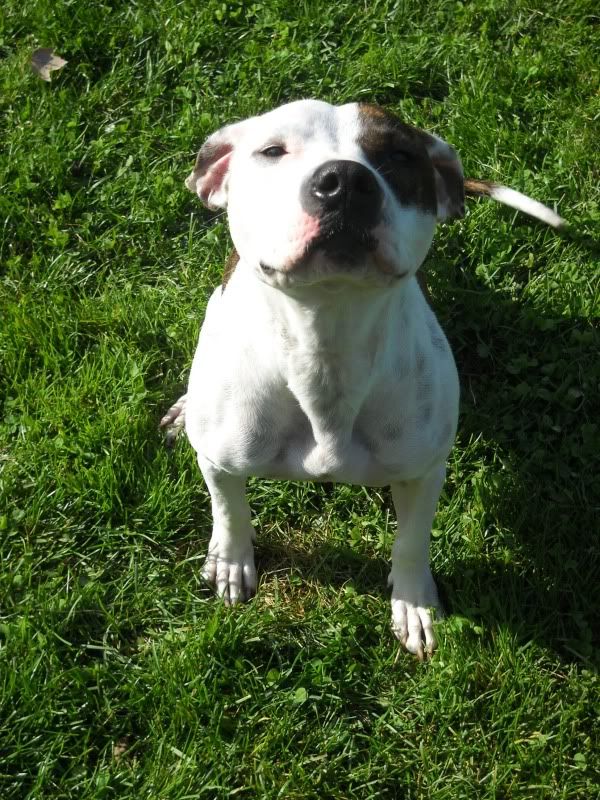 Sugar says "Yayyyy! Warm weather has arrived!" This sun-lovin' darlin' is available for adoption. Please contact us if you are interested.
The Click Bulls! course is for dogs who just need to learn some general leash manners and foundational skills; if you are having behavioral issues like dog-directed aggression, or other problems in your home, you may consider a private, in-home session. These sessions are offered courtesy of Peaceable Canines Dog Training, and the cost is $125/single session, or $300/three sessions. Email: realpitbull@gmail.com for more information on private sessions.
We have tentative plans for our first Pit Bull Fundamentals lecture in May. If you are a new Pit Bull parent, considering bringing a Pit Bull home, or are curious about the breed in general, this lecture will give you a good basic understanding of what these dogs are all about. We'll post more details as soon as we've firmed something up.
Are you interested in getting involved? Now that the weather is warmer we could use help manning tables at events, assistants for classes, and free-lance fundraisers. If you are in the Union County area and would like to be a foster home for a needy dog, please let us know.
Questions, comments, suggestions? Hit us up! info@realpitbull.com