Yoga's all about being present in the moment, and let's face it – Pit Bulls are pretty darn good at doing just that. And I don't think I've ever seen a human quite master the Savasana pose or Upward Dog the way a Pit Bull can. Somehow, Pit Bulls and yoga seem to go together. (Or maybe that's just me!)
Thanks to Illinois-based yoga instructor and
dog trainer
Sachiko Eubanks, RPB is using yoga to help bring awareness to the plight of the Pit Bull.
Sachiko approached us about doing benefit classes after we put out the call on Facebook that we were looking for a teacher who'd be interested in combining yoga with Pit Bull education. Sachiko ran with the idea, telling us she wanted to use her yoga classes as a platform to educate. She is donating to RPB the profits from today's class, plus ones on the 20th and 22nd. She also created a wonderful display in the studio, so students all week can view material on the breed.
Sachiko: I have been studying yoga for 9 years and teaching for 5 years. "Karma Yoga" (giving back something to society through yoga) is a big part of practice. Last year, my dog of 15 years died (she was a Lab/Grey hound mix), and I then adopted Mac, a Pit Bull mix puppy.



I wanted to be a part of educating people about the breed and especially BSL. I am hoping that more people will have true understanding of the breed and BSL through our event at the studio this week.
Coincidentally (or does the Universe just work in mysterious ways?), the studio Sachiko teaches at – Prana Yoga - is located in Geneva – very close to Elgin, where residents are
currently fighting
to keep BSL out of their city. What a prime time to help bring educational materials and a sense of mindfulness to the public!
We are SO grateful to Sachiko for her generosity and appreciative of her giving spirit. Ironically, she thanked US for allowing her this opportunity to educate. We are the ones who are thankful though, and we just know Sachiko's karma is heading through the roof right about now.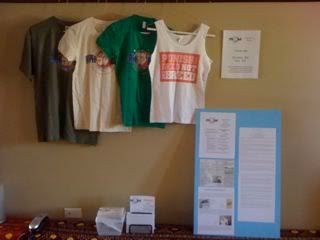 If you'd like to head out to Prana Yoga Studio to take a class or check out some educational breed material, please visit:
Prana Yoga Center
Sachiko's classes will be held on 10/19 at 1pm, 10/20 at 9am, and 10/22 at 5:45pm. There will also be a raffle with the prize being a 10-class card (worth over $100).